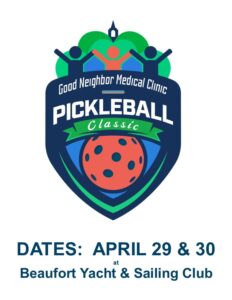 Good Neighbor Medical Clinic is thrilled to announce that we are hosting our second annual Pickleball Tournament – 2023 GNMC Pickleball Classic. The tournament will take place at the Beaufort Yacht and Sailing Club on April 29 & April 30, 2023 and will feature two full days of Pickleball Competition hosting 150+ players. Registration is currently available online at pickleballbrackets.com or click the Register button above..
Not familiar with Pickleball, it is the fastest growing sport in the nation and is taking the lowcountry by storm. What is Pickleball?
¨ A fun sport that combines many elements of tennis, badminton and ping-pong.
¨ Played both indoors or outdoors on a badminton-sized court and a slightly modified tennis net.
¨ Played with a paddle and a plastic ball with holes.
¨ Played as doubles or singles.
¨ Can be enjoyed by all ages and skill levels
Registration is $75. Registration fee includes an adult t-shirt. Online registration is available at pickleballbrackets.com.
GNMC is currently seeking sponsorship partners for this tournament. Contact Janie Lackman at the clinic for details.
Lead Partners
Contributing Partners